It's been a busy month for Repeat Customer Insights development with a bunch of new features and analyses getting released.
Eagle-eyed customers will notice the New Feature banners but I want to share them in detail.
First up is the new customer details page.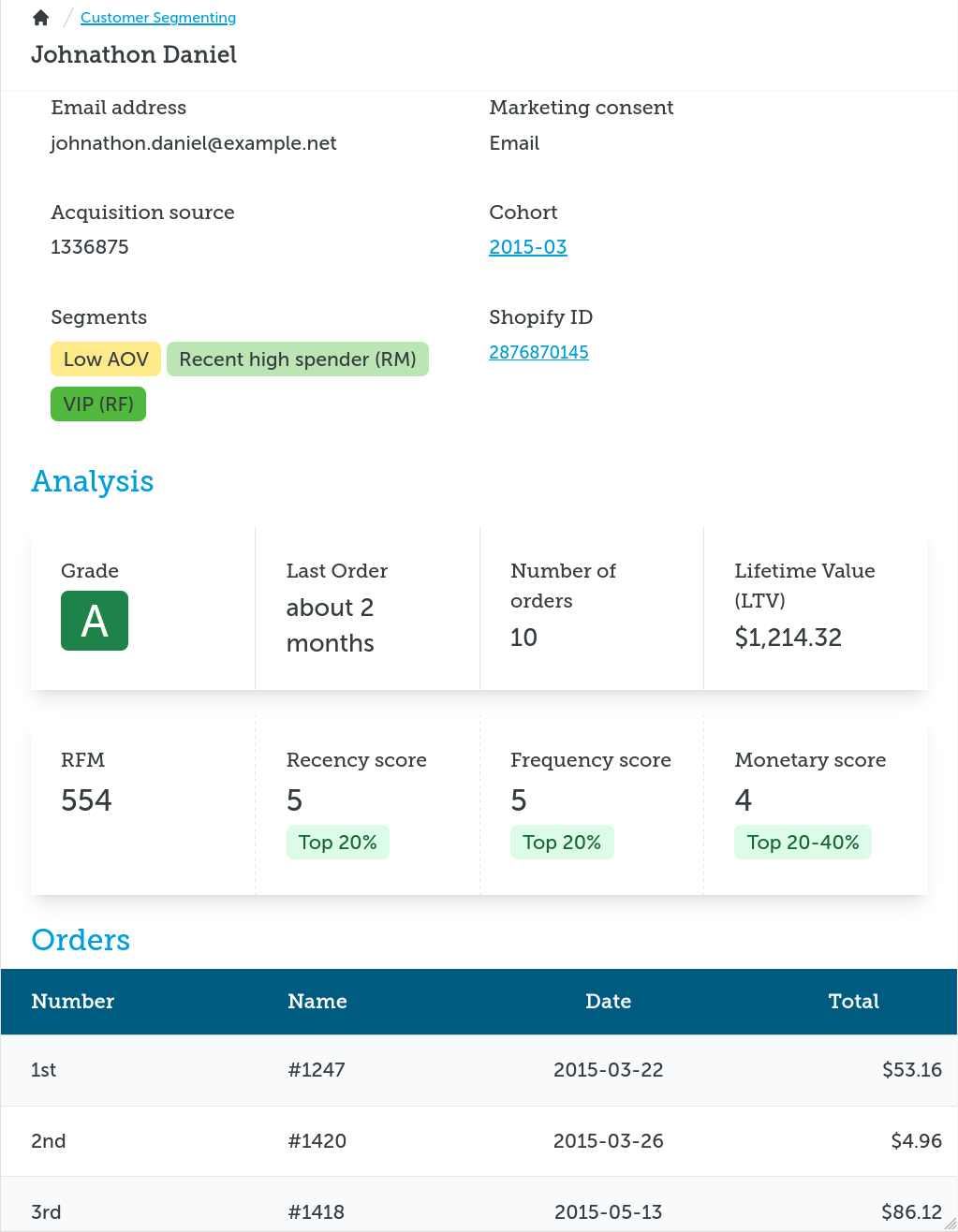 Every customer in your store will have one of these. You'll notice some basic information that you've seen before in Shopify (e.g. email, marketing consent, orders, etc).
Added to that are different behavior analyses pulled from other areas of the app:
Automatic Segments assigned to the customer
Which app or sales channel did they come from, including unidentified or custom apps (like the 1336875 app which is my fake-data app)
The Customer Cohort they belong to
The letter Grade assigned by the analysis
The full RFM score and descriptions of each sub-score including which group they belong to (e.g. Top 20%)
Lifetime Value of their spending so far
Lots of information, all collected into one place. Hopefully easier to read than a CSV file or scattered across multiple screens.
You can get to these reports from the Customer Segmenting and Monday Morning Metrics (including the email version). That way you can quickly start from those high-level reports and drill-down into the specific customer details.
The whole point of this is so you can see this customer and say to yourself, "yeah, this is a great loyal customer. We should do something special for them to keep them around"
This report is already available to everyone using Repeat Customer Insights, even those on my legacy plans from back in 2017. (Some parts just might not appear in your account, like the Cohorts).
All of this analysis is done for you automatically. Just connect the app to your Shopify store and it'll import and analyze your customers for you automatically.
It comes with a 14-day free trial so you can see how it works before paying.
Eric Davis
Segment your customers to find the diamonds in the rough
Not all customers are equal but it is difficult to dig through all of your data to find the best customers.
Repeat Customer Insights will automatically analyze your Shopify customers to find the best ones. With over 150 segments applied automatically, it gives your store the analytics power of the big stores but without requiring a data scientist on staff.