Recently a customer emailed me about JSON-LD for SEO asking about her collection page. Here's an example of it but it'll look better if you see it for yourself on her store.
Solitaire rings collection page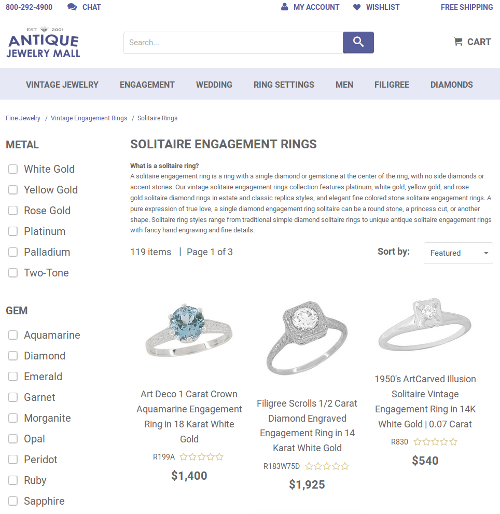 From a conversion and SEO standpoint, this is a very good page.
It has a heading, url, meta description, and content that are clearly about solitaire rings, which sound like the primary keyword they're focusing on.
There's a bit of unique content for the collection page which helps ensure Google will consider the page as valuable. The vast majority of collection pages I see in Shopify stores have no content and are near impossible to rank for.
Overall, this is one of the better collection pages I've seen.
There is one improvement I'd recommend to make it even better.
Add more content.
The collection content is about 100 words, Google likes to see in the range of 300.
One difficulty is that more content would push down the products which could hurt conversions.
To work around that, the content could be added after the list of products. That way it's there and accessible but not taking up space above the fold.
I'm thinking a FAQ on solitaire rings, maybe some history on them (this is an antique jewelry store), etc.
Today would be a good day to Install JSON-LD for SEO if you haven't yet.
It can take some time before Google awards Rich Snippets to a store so if you want to be competitive for this holiday season, you should get this done soon.
Eric Davis