One of the best ways to increase your organic traffic to your Shopify store is through content marketing.
The easiest way to get started is to create blog posts that your customers would be interested in.
Every Shopify store includes a blog. Though it's not as powerful as dedicated blog systems like Wordpress, it's free, easy to get started with, and should work just fine for 90% of the blogging you might do.
I'm going to review the different features Shopify blogs include to help you decide if they work for you or if you need a more powerful blogging system.
Blog posts
The most important thing in a blog is to be able to actually create blog posts.
Like they say, if a blog post falls in the forest and no one is around... wait, wrong metaphor.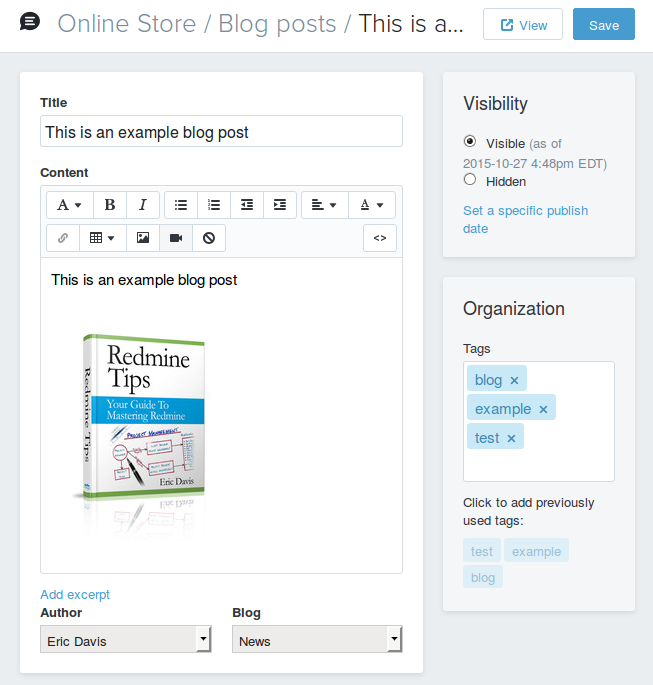 Shopify blog posts are basic but cover most of the things you need to start with.
Post title
Content
Adding images and videos
Nice visual editor
Author
Automatic SEO title and description
Publishing date, including scheduling a post in the future
Comments
Tags
The visual editor is simple but has enough power to handle the majority of your blog posts.
The video support might not be good enough since Shopify only supports embedding videos. This means you'll need to use YouTube or another system to actually host and stream any videos you want to display.
Comments with moderation

Commenting is another major feature of blogs because the comments give your customers a chance to contribute to the post.
Each Shopify blog has the following settings for comments:
Comments are disabled
Comments are allowed, pending moderation
Comments are allowed, and are automatically published
The option you should choose depends on your store, brand, design and how you want to handle moderation.
Keeping comments off gives you the most control, but you'll have a harder time building a community.
Requiring comment moderation will let you control which comments are posted but you'll need to spend time to moderate them every day or at least every few days.
Automatically publishing comments can be a time-saver for you but you'll need to moderate them every now and then to make sure they are appropriate for your store.
Multiple blogs
Another component to Shopify blogs that many merchants love is the ability to run multiple blogs at once.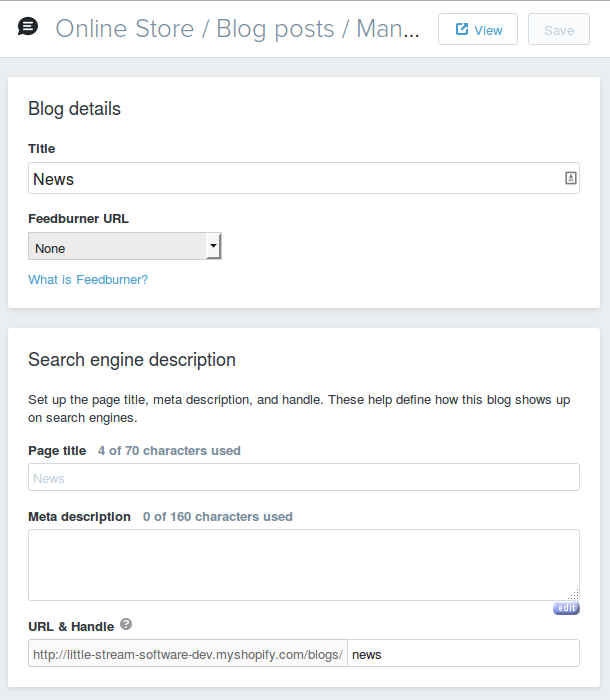 Since a blog is a collection of blog posts, you can separate your blogging into different sections or categories. For example:
News blog for company news
Customer blog for interviews and stories about your customers
Product updates blog for news about new products and updates to existing ones
Deal of the day blog for a daily product promotion you run
Each blog includes its own archive page which lists all of the blog posts. They also include their own feed which can be used by customers to subscribe to updates.
Blog theme design
Creating and managing your blog content is only one side of blogging. The other side is having your customers actually being able to read the blog posts.
Luckily Shopify handles most of this for you when a post is published. Each blog post shows up on its own page and each blog has an archive page that lists all posts for that blog (e.g. all News posts).
You're even able to control how these pages look to your customers using the blog.liquid and article.liquid templates so you're not stuck with a plain-looking blog.
Shopify's built-in blog system is a good starting option
While not as powerful as Wordpress for exmaple, the blogging system included with Shopify is good as a basic blogging system. Combine it with theme customizations and you should be able to do most of what an ecommerce store needs.
Also, Shopify apps are able to integrate with your blog adding the additional features you need.