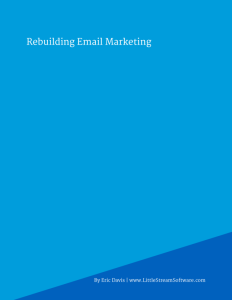 Download this guide
You'll also receive my Daily Shopify Tips email. You can unsubscribe or withdraw your consent at any time.
Many companies start an email newsletter with good intentions. They want to use it to help their existing customers, attract new customers, and promote their goods and services.
But sometimes things don't go as they plan.
What was going to be a monthly newsletter doesn't get sent until five months later.
Educational topics give way to straight promotions and sales pitches.
List growth is destroyed in the latest website redesign (which happened to not include any opt-in forms).
But just because all this happens doesn't mean you have to start again from scratch. You still might be able to save and rebuild.
Excerpt
What assets do you have?
First, you need to take stock of what assets you have.
Do you still have a list of email subscribers?
Do you have a standard email template you've been using?
Did you create email training courses or autoresponders to follow-up with potential customers?
Do you or does someone in your team have the skills to write, edit, and publish an email newsletter?
Take a good, honest look at the condition of your email marketing system. You might be in better shape than you thought.
Where does it stand now?
The next step is to see where your entire campaign stands now.
Are your email software, template, and designs still valid? Or are they about a past you?
Does the autoresponder still make sense and lead the potential customer by the hand through your sales process?
When was the last time you emailed your list? What was the email about?
Has your organization changed?
Knowing the last state of your campaigns will help you evaluate what you need to change, but that's only the beginning.
The next step is to evaluate your organization. Has it changed since your last campaign? Is your product mix different or has the fundamentals of the company changed?
Balance refreshing & replacing
The extent of the changes needed will affect how much work and which process you use to rebuild your email marketing.
Add major changes or many small ones, and you might need to rebuild everything from scratch.
If it's just a minor change or business-as-usual, and you just need a refresher.
Let's start with what to do if your campaign only requires a touch-up.
Refresher
Refreshing your campaign has four parts.
Plan what you're going to do
Refresh your templates
Review your autoresponders
Warm up your list
Download this guide to continue reading
You'll also receive my Daily Shopify Tips email. You can unsubscribe or withdraw your consent at any time.