What if you could get Redmine to act exactly how you want to work?
Imagine if Redmine really did act exactly as you wanted. How much time you could save each and every day?
5 minutes? 15 minutes? What about an entire hour every day?
How would you feel if you got that time back, every single day?
Make Redmine Work For You, Not Against You
I know what it's like to be work with inefficient tools. The more powerful the tool is, the longer it takes to master. And Redmine is a powerful tool. With an equally large learning curve.
You have probably been using Redmine for some time now. Or you're wanting to get a jump-start on on it. Let's be honest here, you're smart and you know what you are doing. But does Redmine make you feel confused and bewildered sometimes?
Redmine has dozens, if not hundreds of features. Many of them aren't documented or only have a brief description about how a feature works. This doesn't help explain why and when you should use that feature. The why is the most important, otherwise how can it help you become more productive?
Who am I?

Hi, I'm Eric Davis. You are probably using code that I wrote for Redmine. I've met a lot of Redmine users over my 4 years as a Redmine core developer. And every single one of them I met was losing valuable time to common Redmine mistakes -- mistakes that are easy to fix, if you just know what they are.
Even though I'm a Redmine developer, I'm first and foremost a Redmine user like you. I use Redmine every day in my business and spend my time using the same processes that many other Redmine users use.
Just like you I've had to struggle to get Redmine's workflow to work for me. I've struggled to automate repetitive tasks. I've struggled with confusing user interfaces. And I've struggled with old and incomplete documentation.
One difference though: as a developer I'm able to dig into the code and see exactly how Redmine is programmed to behave. This is what I want to share with you.
What I've got for you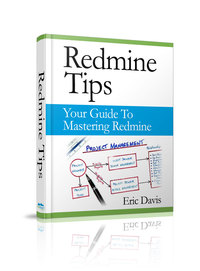 50 time saving tips you can put in action for your Redmine now
Ways to better manage your projects
Make entering time more efficient and also more accurate
Keeping Redmine secure and update to date
How to use email notifications effectively, without becoming annoying
Making wikis work for you
Keep your issue tracking simple, effective, and easy to understand
Color screenshots illustrating the exact steps and settings to change
Multiple ebook formats so you can read anywhere: 75 page PDF, epub, and mobi
Although i've been a self-proclaimed Redmine power user for several years, running 2 redmine installations with >300 projects and >500 users i still found useful tips and tricks i didn't know or think about in your book! --Jaap Prickartz
How much time do you think you'll save?
The great thing about these tips are that you don't have to do them all in order to save time. Just one or two tips could save you hours each month.
Thirsty for some examples?
Do you still want some more details about what kind of tips there are? Here is a short list of what you'll get. Remember, there are 50 tips inside Redmine Tips.
Managing Issues
Are you losing issues by asking too many questions on new issues?
Send emails to remind everyone when their issues are due.
Automatically set the issue due dates so you don't have to.
Project Management
Creating a personal dashboard with information that is important to you.
Create template projects and copy them to save yourself set up time.
Effectively using custom fields to track the data Redmine doesn't.
Wikis
Organize your wiki so you can find pages again later.
Using macros to automatically show data, with no programming required.
Email Notifications
Strike the balance between too much email and not enough to manage a project
Make sure everyone is getting the communication they need and not missing important things
Create and update Redmine using only email (and yes, this works perfectly from any mobile phone)
Easily Lookup Tips By Your Role
In addition, each tip is indexed by role so you can easily find ones that you're able to do without asking for more permissions.
Normal user
Project manager who can edit projects
Full Redmine administrator
Server administrator
Find which tips you have time for
Additionally the tips are categorized by approximately how long they would take to configure. Just because you only have 10 minutes doesn't mean you can't make an improvement somewhere.
Thank you for the book and tips. --Sergey Zhumatiy
Will this work for my version of Redmine?
The tips are valid for Redmine 1.0 and above or any version of ChiliProject. Newer versions of Redmine will work and should be easier to implement because of the ongoing improvements made to Redmine.
Many of the tips will still work on older versions of Redmine, though there might be a few differences in the steps.
What if I'm not an administrator and I'm not allowed to configure Redmine?
If you are not able to configure Redmine there are two things you can do.
1. In the appendix I've included a list of tips by role. Even without Administrator access you will still be able to perform the tips for the User role.
2. Read the tips anyways and then talk to your boss or administrator about making the change. Most teams are open to optimizating their process, they just need someone to tell them what to try. That someone could be you.
What if I implement all of these tips and don't notice a difference?
In the rare chance that you put every tip in place and don't see an improvement at all, contact me and I'll give you a free Redmine Process Audit (read below).
Do you want to become more productive in Redmine?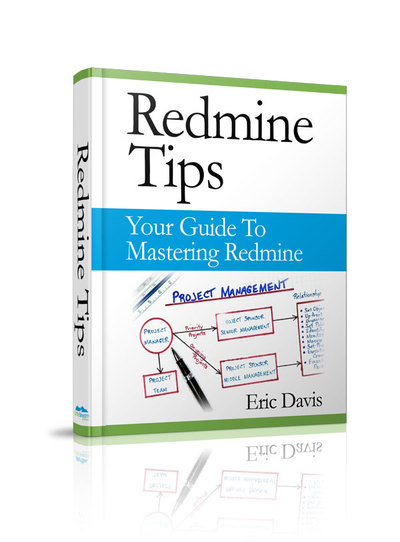 P.S. It's easy to get stuck in a rut and waste time with any tool such as Redmine. Download Here gives you 50 ways to break out of that rut and make you more productive with Redmine. Because lets face it, every minute wasted is a minute you will never get back.